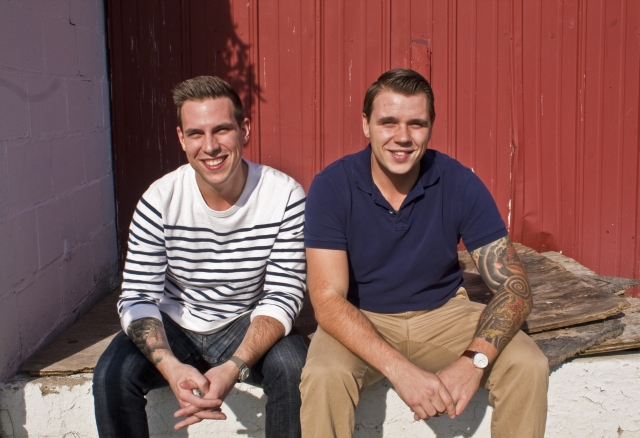 Ross and Kyle are brothers. All of us at Dawn Farm think their mother deserves sainthood.
Ross is older by three years—but he and Kyle equally fell into addiction, much of it together. Thankfully, today they pursue recovery the same way.
Kyle was 12 and Ross was 15 when they began to experiment with alcohol and drugs. First came beer, then marijuana, cocaine and ulimately heroin. As they hung out in the local drug culture, they felt at home. "We fit right in," they both say.
Together they went from casual use to addiction, problems at school and at work—with a family desperately trying to help them.
Both got in trouble with the law. Kyle got an MIP at age 14—and his family tried to keep him safe by grounding him. Ross was arrested for possession. Despite all efforts to slow them down, the brothers got more and more wild.
At 20, Ross made the first of many trips to rehab. Kyle had a life-threatening overdose when he turned 19. One of them would briefly get sober—only to be drawn back into addiction by the other. Jails, hospitals, lost jobs and damaged relationships followed, with relapse after relapse.
Ross remembers their life: "It was soul-crushing. Our lives were so sad." They spent dismal, drug-fueled months together in an apartment they shared with another brother.
Ross tried Dawn Farm's transitional housing, but continued to struggle. "It's tough when everything you do is a lie," Ross remembers. He relapsed repeatedly. But one day, sitting in Detox, he was desperate enough.
"I became willing to take suggestions."
Ross began to connect to the recovering community in the Spring of 2008. He began to volunteer at Detox, got a job, and immersed himself in a 12-step program. He got better.
Kyle's life had continued to deteriorate, and soon he too entered Dawn Farm's Detox. "I desperately needed a place to land," he says. "While I was there, I had a spiritual moment."
Kyle entered Dawn Farm's transitional housing program —the Chapin Street Project—and later moved into other sober housing for nearly two years.
Because of Dawn Farm's help, both got established in the recovering community—and are still sober today.
Ross says, "I lost my fear of people—I began to understand what it meant to be in community. It was pretty cool. Dawn Farm was a hub for our early sobriety."
Kyle didn't always like transitional housing rules, but "they pushed me into recovery and helped me build a foundation. If it weren't for the Farm, neither of us would be in Ann Arbor today."
Today Ross and Kyle are sober, happy, sharing their success with others. And both now work for the Farm—Ross at the Detox he grew to love, Kyle at the original Farm site. They are giving back every day.
What would they say to the struggling alcoholic or addict who's hurting? "Call Spera (our Detox facility). We had faith that these people could help us—and today, every day sober is better than the one before."
Two brothers who suffered together now share a great life together.
"Get some help," they exclaim. "It worked for us."